At this year's Ifat (postponed from May to 7–11 September 2020 in Munich) KSB will present the new Amarex KRT range of submersible motor pumps featuring jacket-cooled drives. They are designed to transport untreated waste water in municipal and industrial waste water management.
The new pump sets are available with drive ratings of 10 to 30 kW and are suitable for vertical or horizontal dry installation. Since the pump motors remain fully operational when not submerged, the pump sets can also be used in pump sumps when water levels have dropped. Thanks to IP 68 enclosures, the pumps also offer trouble-free continuous operation when flooded. The pump sets meet all explosion protection requirements set out in the Atex, FM and CSA standards.
The motor is cooled via a closed circuit which avoids contact between the circulating water-glycol mixture and the fluid handled. This also rules out any risk of contaminants in the fluid handled impairing the cooling of the motor. The cooling liquid is circulated by a special impeller which the pump's design engineers have integrated into the cartridge seal.
This double mechanical seal is a proprietary development of the pump manufacturer which has been producing its own mechanical seals in-house for several years. When servicing is required, this cartridge can be replaced as a complete unit, facilitating and substantially accelerating servicing work.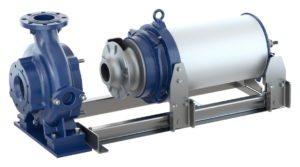 The pumps are able to transport fluids with a temperature of up to 40 °C and operate in environments with a temperature of up to 55 °C. This enables the pumps to be used in hot countries where they are often dry-installed in air-conditioned rooms. Convection cooling via the surface of the pump casing would place an enormous thermal load on the air-conditioning system and have a negative effect on power consumption.
The sensor package installed as standard includes monitoring of the motor temperature via a PTC chain, a leakage sensor inside the motor and monitoring of the mechanical seal leakage via a float switch. Users can also optionally order up to three Pt100 sensors for bearing temperature and motor temperature monitoring as well as a vibration sensor. The signals from these sensors can be analysed by the Amacontrol III protection module, which can send the data collected to either a data recording system or a cloud.