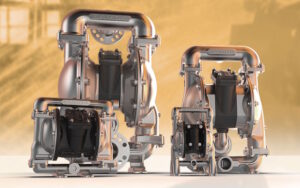 The Spanish pump manufacturer Samoa offers a new series of AODD pumps, from sizes ½" to 3", manufactured in stainless steel. These versions provide an increased resistance, which makes them suitable for demanding applications, such as chemical processing.
Stainless steel is highly resistant to corrosion, making the pump perfect for handling corrosive fluids or liquids with high acidity or alkalinity. Thus, these pump versions can withstand aggressive chemicals and harsh environments without degradation.
These stainless steel AODD pumps can handle demanding applications, providing reliable construction, and maintaining their performance over time.