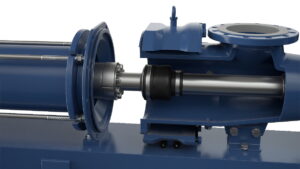 With the so-called 'Rotor Joint Access' (RJA) and 'Drive Joint Access' (DJA) for the new BNM range of progressive cavity pumps, Seepex has ensured that, from now on, one wrench will suffice for the maintenance of these large standard pumps. RJA and DJA for large standard pumps with up to 300 kg allows access to both – rotor and drive-sided joint.
The maintenance solutions were developed on the basis of the already well-established Drive Joint and Rotor Joint Access solutions, which make the maintenance of hopper pumps easier and provide easy access to the joints and seals.
Technically, the maintenance solution for large standard pumps is different from that of hopper pumps. For the considerably shorter standard progressive cavity pumps, RJA and DJA make do with only one sliding housing element at the rotor connection. Access to the drive-side joint and the seal is made possible by the foot that is additionally attached to the suction casing. The entire rotating unit can therefore be removed without the need for an additional sliding housing section on the drive side.
"RJA and DJA will make things immensely easier for mechanics on site in the future. Even non-professionals can maintain the pumps. With a simple wrench, the rotating unit can be loosened to change the rotor and stator," promises Jörg Brune, Head of Mechanical Development and Innovation Strategies at Seepex. "For standard maintenance situations such as a rotor, stator or mechanical seal replacement, we expect a drastic reduction of 80 % in the time required. The reason for this is that flanges and joints can remain mounted."