This article is a collaborative effort by Christian Bayer of Aalen University and Harald Bauer, Michael Becker, Franz Ramsauer, and Markus Simon of McKinsey's Advanced Electronics Practice. Here a short introduction:
(You can download the complete paper at the end of this introduction – free of charge)
---
Fluid-hydraulics pumps play a pivotal role in two global industries: they are the bread-and-butter business of the fluid hydraulics-equipment industry, and they are the metaphorical heart of the process industry. After all, fluid-hydraulics pumps power a broad range of production processes, from pharmaceuticals and chemicals to oil and gas. And, just like their biological counterparts, pumps are outsize energy consumers compared with other equipment systems.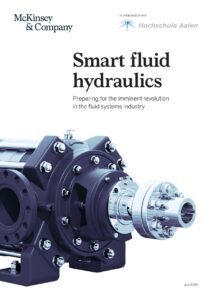 Due to their critical importance and high energy consumption, there is much that suggests that recent technological leaps concerning the usage and deployment of pumps in process industries—that is, smart-pump technology, or "smart fluid hydraulics"—will lead to a revolution in the fluid-systems industry. Above all, this is because smart fluid hydraulics promise drastic gains in energy efficiency, uptime, and productivity. Higher up-front investment costs in smart fluid hydraulics will be more than offset over time by lower operating expenses. It should be noted that while this significant ROI can be expected for applications such as booster stations and cooling circuits and for players in the chemicals and food and beverage industries, it may be less likely for other applications and process-industry players.
The promise of energy efficiency gains is particularly important for two reasons. Amid sharply rising energy costs, especially in recent months, investment in efficiency optimization for pumps is becoming more critical than ever for ensuring competitiveness for individual process-industry players. Additionally, as environmental regulations ("green deals") continue to tighten, industry players need to drastically reduce their energy consumption to reach CO₂ emissions targets and to earn or maintain the right to play. This is a global trend, although regions are progressing at different rates, with Europe ranking among the front-runners.
Based on extensive McKinsey research (see sidebar "Insight sources for this report"), this publication offers players in the fluid hydraulics–equipment industry and in the process industry deep insights into current challenges and opportunities when it comes to applying this technology. To this end, we discuss key perspectives on the smart fluid hydraulics–equipment industry, introduce and describe practical smart-pumps use cases and their relevance by end-user industry, and provide guidance on the strategy-development building blocks that players and end customers can use to prepare their organizations for the changes ahead.
Smart fluid hydraulics (1.2 MiB, 355 hits)