SES and SKS ranges are new EN733 standard pumps. These pumps are optimized for municipalities, water treatment facilities, commercial and irrigation applications.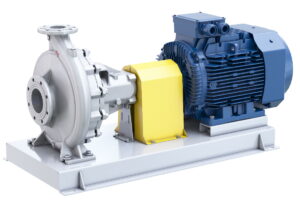 With a robust cast iron casing and a choice of cast iron, stainless steel or bronze impellers, the new units are supplied as a complete package including the motor. Users can opt for
close-coupled (monoblock) SKS or
long-coupled SES range,
with the latter delivered pre-aligned and tested on a steel base plate.
The complete SES and SKS ranges comprise 45 different casing types, covering suction and discharge sizes between DN32 and DN300. To meet the needs of the widest possible breadth of applications, available motor specifications range from a few hundred watts up to 400 kW. European market models are equipped with high-efficiency IE3 or IE4 motors. Users can also choose from various instrumentation and auxiliary component options. The pumps conform to the European EN733 standard for water pumps and comply with the French ACS drinking water standard.
"With the new SES and SKS range, users can benefit Sulzer's unparalleled pump expertise and support in an extremely cost-effective format," says Sebastian Liebs, Global Product Manager Clean Water & Desalination at Sulzer. "These pumps are a compelling option for a broad spectrum of applications from agriculture to water treatment and distribution."