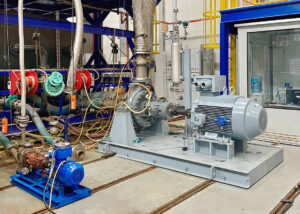 Sulzer is providing 87 pumps for a variety of applications in Hengli Petrochemical (Huizhou)'s latest purified terephthalic acid (PTA) plants. The equipment will be used in two new processing units at Daya Bay Petrochemical Park, Huizhou, China, to support a total production capacity of 2 x 2.5 million tons per year.
With design and manufacturing taking place at Sulzer's localized facility in Suzhou, the 87 process-specific pumps include 15 PRESF single-stage, end suction units. Featuring semi-open impellers that are able to handle the slurries involved in PTA processing, the PRESF is ideally suited to this application.    Each pump is individually engineered to their intended application, leveraging materials to withstand the process conditions. This
includes Hastelloy®, a high specification material with excellent resistance to corrosion and erosion, as well as pumps made with stainless and Duplex steel.
Construction of Hengli Petrochemical (Huizhou)'s new PTA plants is expected to be completed by the end of 2021, with operations scheduled to start in the second quarter of 2022.