By David Fasnacht – Customer Training Manager, Sulzer Pump Services (US) Inc.
As more  baby boomers continue to retire in 2021, it is reported that 62% of companies are struggling to fill critical, skilled technical trade positions, such as millwrights, machinists, mechanics, welders, operators, pipefitters, and electricians. Thirty-one million skilled technical trade positions will be vacant by the end of 2021, per the 2020 US Labor Department Report.
Skilled trades' people are key components to the USA workforce and are vital to the economy. The need for skilled technical trade labor training is only becoming more evident. Today's  maintenance facilities manufacturing facilities, power plants, pipelines, water processing plants and chemical plants have employees with decades of experience retiring with their intimate knowledge of the equipment and processes.
These plants supply us with electricity, water, gas and diesel for our vehicles and heat in our houses, just to mention a few necessary living requirements. Jobs that supply our everyday needs cannot be outsourced. In a perfect world, the trade's person retiring would be paired with their replacement, for six months to a year, to learn all the tricks of the trades that have been mastered by the senior employee over their decades of employment.
Entry-level training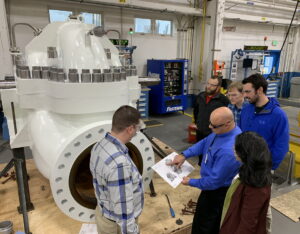 Due to cost constraints, companies rarely invest in training new employees prior to the retirement of their predecessors. The need for skilled, entry-level employees is becoming so great that employers are starting to look at many ways to find qualified personnel.
Some companies are starting to work with the local trade schools in their areas. These trade schools have substantial access to manufacturing and processing plants in their area to develop the specific training required for manual maintenance operations and automated operations at these facilities.
Companies may need to revisit company-specific apprenticeship/mentorship programs to ensure they have a qualified employee base. In the past, companies had training programs available to interested, new talent. One of the challenges industries are being faced with is the shallow talent pool from which to draw a skilled trades' person. Companies may receive 400 applications but only six of those applicants are qualified for the skilled labor trade job available.
Real-world skills
Training programs can range from a 30-minute online seminar to two to five-year programs / mentorships. The goal of the two to five-year programs / mentorships is to have a skilled technical trades' person with the company's required specific skillsets.
The reality is trade schools do not offer many classes for the manual processes and the real-life skills needed in these manufacturing facilities. Most of the chemical plants, maintenance facilities  and refineries have little use for automated machining of parts. The facilities may need to machine one or two parts, not thousands, thus making manual machining processes necessary. This creates a disconnect between outside/third-party training offered and the actual needs of the facilities.
New employees need exposure to and training for all aspects of the processes and the equipment in the shortest time possible, which can be achieved by tribal knowledge – retiring employees and training classes.
From the viewpoint of a skilled technical trades' person, already working in the industries mentioned, the training type and timing is of the utmost importance. The employers must invest in the new employees' internal training, so the company can perform efficiently and safely and maintain a healthy profit margin. Internal training can also supply the employees with critical information and hands-on experience, thus decreasing the learning curve and minimizing unnecessary mistakes.
Filling the knowledge gap
Lack of training can work in two ways in a manufacturing plant. For example – operations personnel may not understand how running a centrifugal pump incorrectly increases the frequency of repairs, which could otherwise be avoided; in addition, maintenance personnel may not understand why they are repairing the equipment so often. This lack of knowledge can cost the employers excessive, unnecessary downtime, loss of production and the added maintenance costs, leading to significant revenue losses.
The rate of return for a company investing in their employees' training is hard to gauge, but training is extremely beneficial to the maintenance of the facility while keeping downtime and unnecessary repair costs to a minimum. Every training session, whether it is a 30-minute, online seminar or a three-day, face to face seminar with hands-on training, can have an enormous rate of return for the facility, thus decreasing costs and increasing efficiency as well as safety.
If a company were to send a trades' person to attend one subject-specific class, once a year for five years, pertaining directly to the equipment supported, tremendous benefits and cost savings will be achieved in production and safety. Ongoing training programs can ensure staff are well qualified for their positions.
Becoming qualified
Take for example an employee who is personally responsible for the successful installation, rebuilding and maintenance of centrifugal pumps. The most benefit would be obtained by attending a centrifugal pump fundamentals course, which supplies a solid foundation of installation, operation and maintenance of rotating equipment. This also satisfies the OSHA Codes of Federal Regulations (CFR) 1910.399 requirement. OSHA defines a "qualified person" as "one who has received training in and has demonstrated skills and knowledge in the construction and operation of electrical, equipment and installations and the hazards involved."
When applied to pumps and systems, a qualified person can demonstrate relevant skills and knowledge related to the installation, operation and maintenance of such equipment and systems. In addition, the employee will receive the safety training needed to identify and avoid hazards, including the proper identification and use of personal protective equipment and proper lockout/tagout procedures.  Instructor-led training teaches the basics along with the safety knowledge needed to meet OSHA's "qualified person" definition.
The learning curve can be exceptionally steep when people begin their trades' careers. Mistakes are not acceptable. Companies must invest in their employees if they expect them to perform at the elevated level needed to compete in today's business world.
Employee investment
Training is often the first thing to be cut in tough economic times, making for enormous ramifications, considering 20 % to 60 % of the skilled trades' employees in most facilities have been hired in the last five years.
Businesses must invest in the talent that they currently employ and plan on hiring. Employee investment will provide years of successful operations with a minimal amount of growing pains, as the baby boomers retire.
The shortage of skilled trades' workers today is unprecedented. Therefore, training is critical for the future success of a facility. Employers must supply the training necessary, as the hiring pool is young and inexperienced, which will give the companies the best chance for a smooth transition from the retiring employees to the new hires.
There has never been a better time to be an ambitious, well-trained, skilled technical trades' person. Being proactive instead of reactive with training is necessary for both the employer and employee in today's times.