Timeline
1986 Aluminium oxide characterised by natural closed porosity and a greater resistance to thermal shock
1987 optimisation of surface parameters on improved alox
1987-1989 study of a new grade of resin-bonded carbon, compatible with improved alox thermal shock. Introduction to the new carbon grade: Carbon Ultra Graphite (C.U.G.)
1990-1993 development of a new watertight "sintered" carbon graphite, resistant to impregnation
1993-94 review and optimisation of surface finishing parameters of ceramic surfaces and carbon rings, due to the new carbon grade
1995 introduction of sintered silicon carbide seal rings
1998 introduction of "controlled porosity" silicon carbide, for enhanced tribological performance
2003-05 development and introduction of the third generation of "sintered" C.U.G, with enhanced performance in terms of heat generation and dry operating conditions
2004 Meccanotecnica Umbra introduced the silicon carbide with "Designed Porosity" (this technology is pending patent PCT / IT2006 / 000731): porosity is limited to the surface and is not present in the body
Meccanotecnica Umbra (MTU) is present in the automotive industry, especially in the construction of mechanical seals for engine water pumps, as well as in many industrial sectors. In recent years, all industries are having to contend with market changes caused by changes to environmental regulations and the trend of reducing engine power, with the aim of lowering consumption and ecological impact.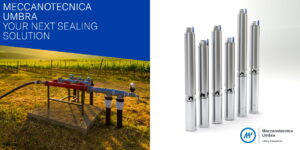 It all started with the emergence of a new market requirement:
On the one hand it was necessary to reduce cosmetic physiological micro loss which all parts of a mechanical seal must have; on the other hand, increasingly stringent environmental regulations resulted in a change of the composition of antifreeze liquids, previously highly polluting. This resulted in a change in behaviour of both cooling liquid and lubricant, determining a need to modify mechanical parts which come into contact with such liquids, for physical reasons (the risk of surface abrasion of pumps powering them) and chemical reasons too (the tendency of antifreeze to form deposits due to the presence of mineral salts). Therefore, MTU had to react to these new changes to regulations and engine operating conditions: an overall reduction of power and a tendency to manufacture smaller, faster and hotter engines meant that parts were subjected to a greater degree of stress.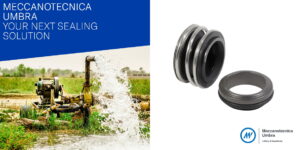 In the industrial sector too, electric pump motor power consumption is becoming an issue of concern, and European directives are imposing ever lower limits to achieve more demanding efficiency targets.
During the first step of development, focus was on identifying ideal materials for building both seal rings. For some applications, operating temperatures require the use of carbon rings, so MTU had to search for a carbon with all the ideal properties:
least possible friction,
greatest resistance to wear,
least possible thermal expansion (- 40 °C up to + 140 °C),
to prevent size changes that would undermine pump operation. This is how the MTU specialists came to define C.U.G. (Carbon Ultra Graphite or Hard Carbon Graphite), thanks to a resin-free sintering process, gradually defining the most suitable carbon and graphite proportions.
The MTU specialists tried to optimise sealing capacity by identifying the best material for mating with C.U.G. initially it led to use ceramics, until the arrival of silicon carbide, characterised by its greater resistance to thermal shock. However, the challenge lay in how to maintain a minimum presence of liquid between both surfaces in contact, to guarantee necessary lubrication between all sealing elements.
Therefore, these materials were developed to ensure the lowest possible friction in operating conditions and a stable lubrication film between parts, to guarantee a low and uniform temperature while also keeping material deposits, noise and excessive torsions, under control. Therefore, the MTU reaction was inspired by demand for reduced friction, changes to fluids and contingent market requirements, underpinned by a research and development path which led zhe specialists to change and evolve product parts, along with their structural and surface conditions.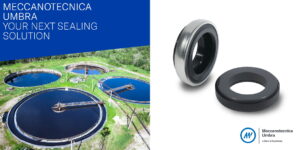 Carbon micrograin became increasingly fine. Silicon carbide surface porosity has increased and since 2010 MTU have been using Laser technology, as opposed to pressing, for its production, resulting in a significant enhancement in terms of precision. This has also considerably improved the problem of noise caused by attrition: thanks to this parallel development, the granulometry of graphite powders is designed to perfectly interact with the porosity of Silicon Carbide, meaning MTU is no longer "at the mercy" of suppliers for "standard" material supplies, while also guaranteeing benefits generated by much higher performance levels compared to competitors. This process has enabled MTU to anticipate Japanese and German competitors in the automotive market and offer a new technical proposition to industrial customers.
This is the story of 25 years of continuous research…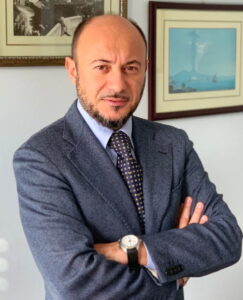 …which is still ongoing and looking to the next 25 years with the same pioneering spirit that has inspired customers to appreciate our difference. "The market share we have today comes entirely down to our ability to solve customer problems," sais Paolo Zenone, Industrial Division Director at Meccanotecnica Umbra spa. "The fact that we are able to provide such answers is because we chose not to focus solely on production costs, and had the foresight to shift design from the product to the material. We can proudly affirm that instead of designing "just" the product, we also designed the materials used to build the product.This is why the concept of Designed Porosity for our silicon rings is tantamount to a vision, a methodology and a work method that is unique to MTU: all design elements are geared towards the customer's result. All research and development took place in Campello sul Clitunno, Italy. Here at Campello an investment was required in order to supply all silicon carbide production and surface laser finishing sites. A strategic choice made 15 years ago, not the most competitive one, but certainly one which guarantees control, quality, and a certain degree of confidentiality. Foreign subsidiaries proved to be indispensable as far as production and commercialisation were concerned, enabling us to successfully tackle markets with the most competitive conditions possible and above all with effective local logistics-manufacturing strongholds. As regards our attitude towards customer relations, after-sales proved to be crucial, as in concrete terms, it enables progress in research, thanks to a structured continuous feedback process. In this way, high-technology investments at Campello proved their worth and served the company's purpose, enabling a continuous and virtuous flow between the research and commercialisation of products as well as mass production, so that we reach the necessary numbers for our subsistence, thanks to extensive demand from our subsidiaries. Global sales generate the necessary numbers. Otherwise, the limited quantity production of rings for a local market would not be profitable for anyone.
This has enabled us to consolidate a vast competitive edge over competitors who must purchase materials that sometimes are not even specific for applications, hindering their ability to keep up with technological leaps or market innovations."
Here you will get more information